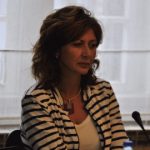 Olivera Vukovic is an executive director at SeConS. She is sociologist from Belgrade with an academic background and extensive experience in policy oriented research. She has regional experience since she has lived and worked in Bosnia and Herzegovina for three years, as well as in Montenegro where she worked for different clients. She has significant experience in cooperation with international institutions (such as, DFID, UNDP, IOM, UNFPA, UNW, SDC, etc.), national and local governments, institutions and civil society organizations.
Key competences: Program management and quality assurance, Development of training curricula and training delivery, Monitoring and evaluation of processes, projects and policies, Design of quantitative and qualitative surveys, Preparation of analytical reports, Various forms of policy analysis
Key fields of expertise: Social exclusion, social policy and social protection, Decentralization of social policy, PCM, Capacity development of CSO and municipality departments, Strategic planning, Socio-economic development.